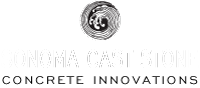 Made in America from EarthCrete™ Sustainable Concrete
Residential Concrete Sinks

Sustainable and UN-Stainable
EarthCrete™ Concrete Sinks

All Sonoma Cast Stone Fixtures
Are Guaranteed Against Cracking

Choose From A Dazzling Palette
Of Natural and Designer Colors
With a warm, organic feel and the strength of ages, concrete can hold any shape and wear any pigment. Concrete is everything that granite and marble want to be, and it beckons for your designs inspiration.
Sonoma Cast Stone's award-winning sink and countertop designs run the gamut from traditional to contemporary and even whimsical. Best of all, they're made from the finest concrete on earth... EarthCrete™.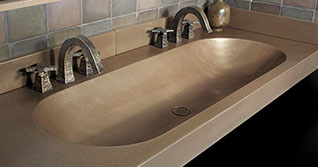 Sonoma Cast Stone concrete sinks are designed to be as functional as they are beautiful, many with concealed plumbing and drains and all with a perfect slope to the drain that keeps the sink clear of those soapy puddles you hate to clean...