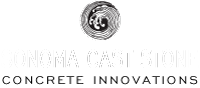 Made in America from EarthCrete™ Sustainable Concrete

All Tubs Available With Optional
Embedded Heating System

All Sonoma Cast Stone Fixtures
Are Guaranteed Against Cracking

Choose From A Dazzling Palette
Of Natural and Designer Colors
With a warm, organic feel and the strength of ages, concrete can hold any shape and wear any pigment. Concrete is everything that granite and marble want to be, and it beckons for your designs inspiration.
The feel of cast stone on your skin is something that can't be adequately described, but there's a reason we offer optional, embedded heating coils in these tubs. People just don't want to get out.
Available finishes now include MetalCrete™, genuine pewter, bronze, steel or copper, permananently plated to your tub.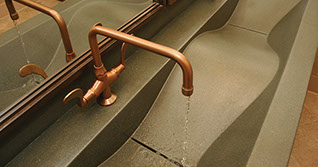 Sonoma Cast Stone, in the heart of the California Wine Country, has been designing exquisite, architectural concrete fixtures for luxury hotels and restaurants, as well as premium homes.
Also look to Sonoma Cast Stone for concrete kitchen sinks and countertops as well as an amazing assortment of concrete tiles and pavers, concrete fireplace surrounds and much more.